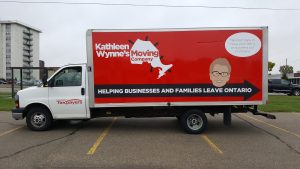 The Canadian Taxpayers Federation is speaking out against provincial policies they say are making it easier for companies to leave Ontario.
A truck representing the satirical "Kathleen Wynne Moving Company" set up shop at the Thames Lea Plaza in Chatham this morning.
The Federation says new taxes, rising hydro rates, and the increasing cost of labour are making it more and more difficult for business to operate in the province.
Similar protests have been staged across the province over the last few weeks, with other stops today in Sarnia and Windsor.