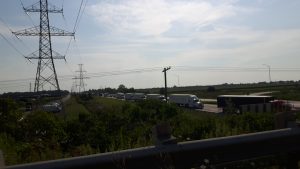 Four people are being charged after a chain reaction collision shut down a portion of the 401.
Chatham-Kent OPP say three tractor trailers collided into each other after the first slowed down before entering a construction zone. Two vehicles crashed into the back of the third.
The 401 was shut down for several hours.
After investigating the collisions, Chatham-Kent OPP are charging one of the drivers, a 51-year old from Brampton, with careless driving.
Two other drivers, a 69-year-old from Windsor, and a 35-year-old from St. Thomas, are both being charged with following too closely.
During the cleanup, authorities say an eastbound tractor trailer tried turning around through the centre median near the Charing Cross Overpass, and became stuck in the process. The 25-year-old driver from Scarborough is being charged with careless driving, failing to maintain a daily log, and failing to enter required information in the daily log at the end of the day.