A coach bus with the International Plowing Match's logo is travelling all over Ontario.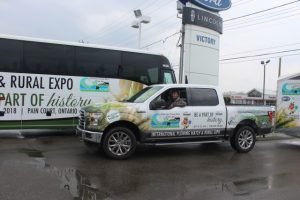 Badder Bus is signing on as a sponsor for the September 2018 event, and Doug Badder says the bus will also be heading outside the province as well.
"80% of the time is in Ontario traveling the 401 corridor," Badder says. "We also go into the New England states and across the northern part of the US."
Victory Lincoln is a sponsor as well – they've contributed a pick-up truck with the IPM's branding on it for the committee to use.
Adam Lally, General Manager of Victory Ford, says they're happy to support this event:
"Being part of the community is really important, and a big part of our community is the agriculture industry," Lally says. "Farming and farmers is a huge part of our customer base."
Both vehicles are valued at over $100,000, and will help the committee advertise the four-day event.