The 29th iteration of WAMBO gets going this afternoon.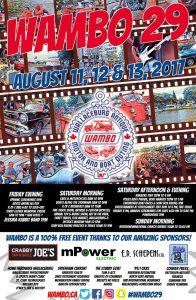 Tonight is the big kick off with the opening ceremonies at Wallaceburg Civic Park getting underway at 5pm.
The car cruise hits the road starting at 7.
If you don't have a car, hang out in the downtown with the Knights of Columbus BBQ and entertainment tent and wait for the parade.
Saturday brings the boats, the cars, the motorcyclists and so much more to downtown Wallaceburg.
You can check out Art in the Park, the craft and flea markets and the Soap Box Racing on the south side.
In the evening there's the live music starting at 7pm with Powerhouse.
The whole shebang wraps Sunday with the church service at James. St parking lot and the free lunch follows.