LISTEN IN FOR CHATHAM'S OLD TOWN SOUL THIS WEEK ON THE LOCAL #SPOTLIGHT. HEARD DAILY AT 3:40 PM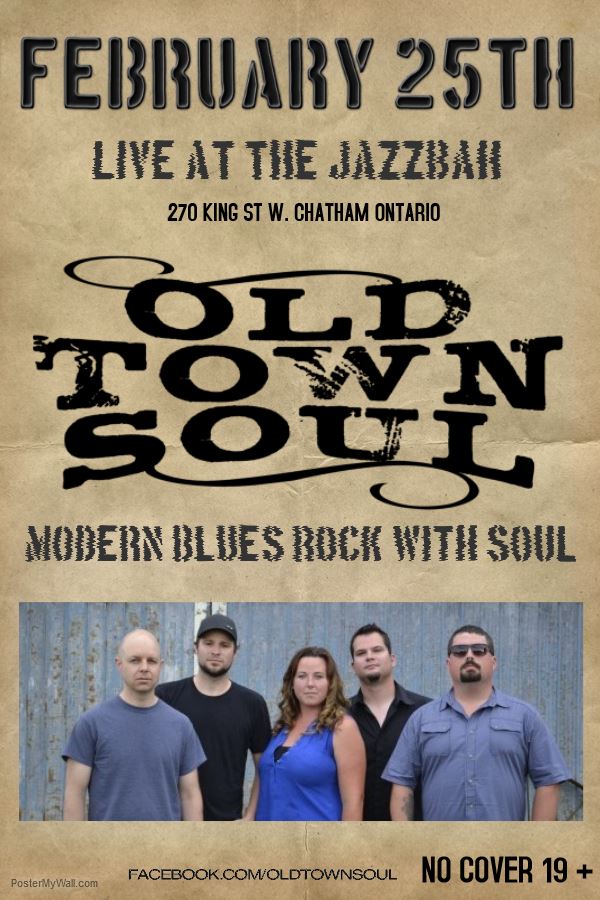 Check out OLD TOWN SOUL live in concert this Saturday night – Feb 25th at JAZZBAH in downtown Chatham
"Old Town Soul delivers modern blues rock with soul"
Old Town Soul has left the garage and is on it's way to making a huge mark on the Canadian Blues Rock scene.
In a small garage studio in Chatham, Ontario Canada " Old Town Soul" was born.
Fresh off the release of their first EP "When It Rains", Old Town Soul plan to deliver a style of music that some have forgotten.
Jordan Ginty, the band's founder, producer, guitarist and front man went to work back in 2014 writing songs to practice recording in his home studio. The songs were never meant to leave the garage. As time went on the amount of material grew and Jordan decided to form a band to play the material. The songs then took on a new shape. Instead of one man's ideas it was a group effort. They later put these songs together to form their first release "When it Rains". They have been playing across Ontario and hope to reach as many music fans as possible. Look for Old Town Soul to come to your town and be sure not to miss it.
OLD TOWN SOUL is:
Jordan Ginty – Guitar / Vocals
Jen Ginty – Vocals
Matt Broadbent – Bass
Mark Lodewegen – Keys / Vocals
Nick Sennema – Drums