With a party like no other, over one thousand residents have raised hundreds of thousands of dollars for charity in Chatham-Kent.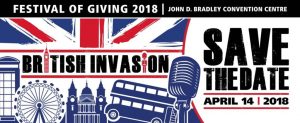 The annual Festival of Giving brought in $265,000 for the Children's Treatment Centre and other local charities.
Chair Chris McLeod says there was a sense of relief and accomplishment the moment the doors opened on Saturday night.
"It was a stressful day leading up to it, a couple of things went sideways," he says. "But we figured it all out and when the doors opened, it was go time. Everybody did awesome, the entertainment was top notch."
Aside from the Children's Treatment Centre, other charities reaping the benefits of the FOG include Habitat for Humanity, Big Brothers Big Sisters, and the Sertoma Club.
McLeod says a few ideas have already been thrown around for next year's event, although official planning won't begin until later in the summer.