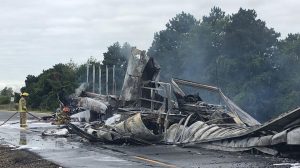 It will be at least Friday before they can open the area of the 401 Westbound near Highgate to 2 lanes of traffic again.
The lane reduction is for repairs following a fiery crash involving multiple vehicles on Wednesday afternoon.
The OPP reported the driver of a transport did not slow in time at a construction area and slammed into the back of another truck causing a chain reaction accident.
Two of the trucks burst into flames.
One of the drivers suffered minor injuries
. Charges are pending against the first driver.