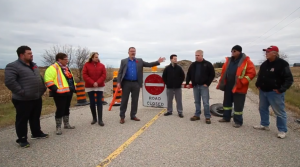 Chatham-Kent's mayor-elect took to social media yesterday to update residents on some infrastructure issues in South Kent.
Darrin Canniff gathered a group of area councillors and a film crew to update residents on the status of the road, which has been closed for close to six months.
According to a June 22, 2018 post on the Municipality's Facebook page, the road was closed for a culvert replacement, and was set to re-open this fall. Officials say bad weather delayed the repairs.
"We're going to continue communicating this way, not only with this project, but with other projects. Rest assured as well, we're going to be looking at this process. We realize that 6 months is not acceptable to the residents around here. When something like this happens again, we need to have a process in place that gets stuff like this moving a lot faster," says Canniff in the 3-minute long video on Facebook.
Officials from the Engineering & Transportation department expect work to get underway on Monday, and the road should be reopened by the end of the year.
"Contractors will be mobilizing to the site on November 12th and he is assuring that the construction in this road will be open and complete by the end of this year," says Chris Thibert, Director of Engineering and Transportation, who was also in the video.
You can view the video by visiting Darrin Canniff's Facebook page.