It was a chance for some of Chatham-Kent's best and brightest in business to shine.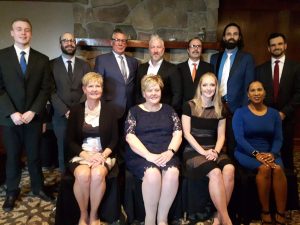 The 130th annual Business Excellence Awards were handed out in Chatham last night.
John Lyons and his partners at Hub Creative Group accepted the award for Small Business of the Year, and says after 30 years, the key to success is flexibility.
"You have to be able to roll with the punches and make adjustments," Lyons says. "Business today is so different than it was five years ago and light years away from what it was 10 years ago, so being able to adapt, foresee any changes, and roll with those punches, you have to take the good with the bad every day."
Habitat for Humanity Executive Director Nancy McDowell says being named Corporate Citizen is a great honour.
"It's a celebration of everyone who has helped us along the way," McDowell says. "All of our volunteers who volunteer in the ReStore, on the build site, at events our Board of Directors, our staff, and every single person who donates to a build or in the ReStore or purchases an item in the store, it's a celebration for them for helping us get to this point."
Other winners include Chatham Breakfast House and Grille for medium business, Jeremy Dean for Youth Entrepreneur, Steven Peach as Young Entrepreneur, Christine Fairbairn was named Young Business Individual and Magdiel Hoste took the Business Individual honour.
Meantime, a similar ceremony was held in Blenheim, honouring Lake View Greenhouse Farm as Agriculturalist of the Year, Business of the Year Award for the Blenheim Kent Golden Eagles Gymnastics Club, and Marc Eskritt as Citizen of the Year.