With relatively little public feedback, the municipality will not look any further into the possibility of shrinking the number of councillors.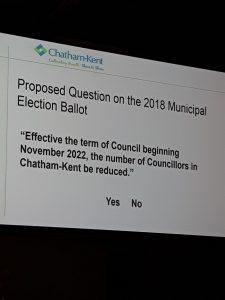 Fewer than 20 people turned out for a public meeting on the issue last night, with 10 comments submitted online and two written submissions.
Ward Six Councillor Doug Sulman first raised the idea, and says he wanted to give residents a voice, as they've never been asked this question before during an election.
"This would have really stimulated something in a campaign," Sulman says. "It didn't happen, and life goes on, but the important thing is to try to do the right thing for your constituents, respect them, and listen to them."
Chatham resident Renee Kominek says she didn't have much time to get informed. "If Councillor Sulman believes this is the best thing, I strongly believe he should have brought it froward much sooner to give everybody sufficient time to collect the proper information."
Angela Fry, also from Chatham, agrees. "I feel like we're not getting all the information, so why involve us in a process if we're not going to be given all the information necessary?"
In the end, councillors voted 11-7 against putting the question of whether to reduce the size of council on the 2018 election ballot, and there will continue to be 17 councillors representing the six wards.