The new Director of Education for the St Clair Catholic District School Board is having a fun-filled first week.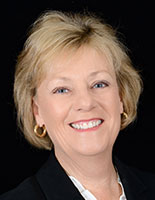 Deb Crawford says her first few days in the new role have been busy.
"I think it's an exceptionally opportune time for Catholic education in our community with the idea that we're going to build in Chatham-Kent," Crawford says. "Sarnia-Lambton we're looking at innovation as well in that community, it's a wonderful time to be the Director, I'm very, very excited about it."
Crawford replaced former Director Dan Parr at the start of the year.
She says blessing the ground for the board's new school is a great way to mark her first week.
"I find our Catholic schools are very strong in the his area," Crawford says. "Parents are very strong supporters in our parishes, our schools are thriving, enrollment is strong, so we're very happy."