The Children's Treatment Centre is one big step closer to its new facility.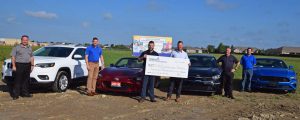 The Lally Auto Group has donated $70,000 to the Butterfly Building Campaign to create a new, expanded facility.
"We are incredibly proud to be able to support and sponsor the CTC-CK," says Adam Lally, Operations Manager. "The work that they do for children in our community is truly special and important."
The donation comes from 4 local auto dealers – Victory Ford, Chatham Chrysler, Lally Kia, and Chatham Mazda.
The client base at the Treatment Centre has grown from around 200 when the current building opened to more than 3000 now, with an increase in staff and programs offered.