Another busy day for Chatham-Kent fire fighters.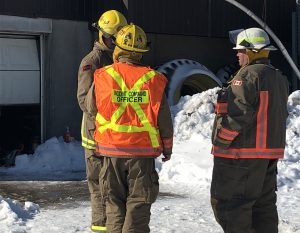 Crews in Blenheim were called out to a farm on Old Street Line near Fargo Road shortly after 11 yesterday morning.
Workers spotted flames coming from the roof of the barn and used a fire extinguisher to douse them, while fire fighters doused some remaining hot spots.
One worker was treated by paramedics for smoke inhalation at the scene.
1400 pigs were saved and only about $20,000 worth of damage was done.
About an hour earlier, fire fighters in Chatham responded to an apartment fire on Park Avenue East.
A fire was discovered on the third floor, and quickly extinguished.
One person was treated for smoke inhalation.
The cause of the fire has been deemed electrical, and officials say damage was contained to one unit in the building