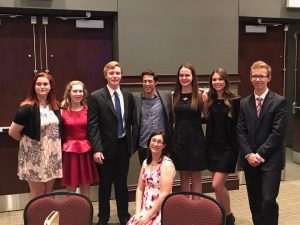 The local Junior Achievement chapter is saying goodbye to former President Barb Smith.
Smith left the position yesterday after working at Junior Achievement for 16 years.
She says this week has been overwhelming.
"It's kind of a bittersweet moment because it's nice and exciting to go on to new challenges, but it's really sad as well because I'm leaving behind memories with volunteers and other contacts", says Smith.
Smith says she's heading into a new position with the government in Employment and Social Development.
"The position sounds exciting and new, and it'll keep me in the Chatham-Kent area which is great because that's what I wanted to do. I look forward to the challenges there", Smith says.
Smith also says no Junior Achievement programming should be affected while they look for her replacement.