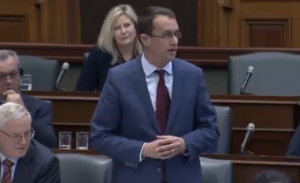 One local politician is excited for the year ahead.
Lambton-Kent Middlesex MPP Monte McNaughton says 2019 is shaping up to be a busy year.
"As minister of infrastructure I'm focusing on two files, that will be a benefit to the people of Wallaceburg and right across Lambton Kent Middlesex. That's the expansion of natural gas across rural Ontario and expanding broadband in rural, remote and northern communities," says McNaughton "And balancing the budget in a responsible manage and fixing the health care crises we have in Ontario where people are being treated in hallways."
McNaughton says issues like the budget, jobs, and health care will be priorities for the government in the coming months.