Chatham-Kent's "Detourist" ad campaign is getting some provincial recognition.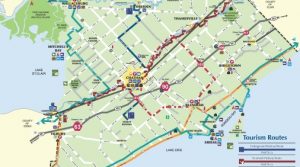 The initiative was launched last year with the closure of the 401 and 40 interchange.
Supervisor of Tourism Development Shannon Paiva says the honourable mention at the Annual Economic Developers Council of Ontario Conference is no small praise.
"We did what we meant to do, we took what could have been a negative, all that construction, and turned it into a positive," Paiva explains. "To receive an honourable mention is truly fantastic for us."
Paiva says the campaign was two-fold: promoting safe travel with alternative routes around the 401 construction, and a secondary focus of highlighting some of Chatham-Kent's hidden gems.