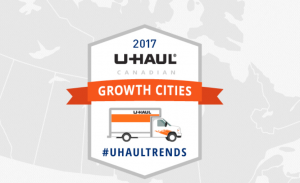 More people are moving to Chatham-Kent, according to the recent U-Haul Canadian Growth Cities study.
The moving company has ranked Chatham as Canada's Number 11 Growth City, up two spots from last year.
According to U-Haul, the data was compiled from over 1.7 million one-way U-Haul truck rental transactions, and the growth cities are determined by seeing how many one-way arrivals are in each city, compared to one-way departures.
Ottawa is at the top of the list, followed by Belleville and Trenton.