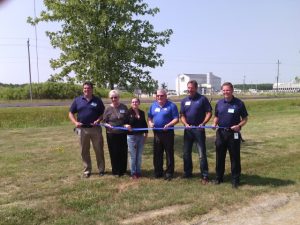 Union Gas has officially launched its Dawn "H" Compressor Station at its facility in Dawn-Euphemia Township, north of Dresden.
President Steve Baker says the project went very well.
"We've completed this project safely, we've completed it on time and on budget, and in this kind of environment, that is no small feat," says Baker.
The $250 million expansion connects the Dawn facility to the company's natural gas transmission system to better serve markets in eastern Canada and the northeastern U.S.
President Steve Baker says the project is significant in many ways.
"The benefit of these facilities that we've got in place here, and the newest compressor – they're gong to be around for a long period of time, and they're going to provide substantial benefits to this province, and the consumers of this province, for many many years to come," Baker explains.
Baker says the compressor station helps to give the natural gas a boost as it travels down the pipeline.