Local agencies will be sharing in almost $1.7 million, thanks to this year's United Way campaign.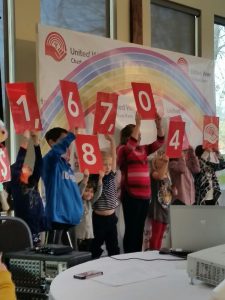 The organization put the wraps on its 2017 fundraiser this morning with Chair Elizabeth Downey Sunnen announcing the campaign total of $1,687,048, just under $40,000 below target.
"If you think about it, if every person that received Untied Way support last year was able to donate a dollar we would have met our goal, but they couldn't," Downey Sunnen says. "They couldn't donate, they needed the services, so I think that it's actually fitting that we found our end this year with the very number of folks who needed our help last year."
The United Way of Chatham-Kent supports about 40,000 people across the municipality through more than 30 member agencies.
Full presentation of the 2017 United Way of Chatham-Kent Campaign Touchdown. Courtesy of YourTV Chatham-Kent.