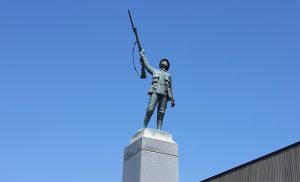 With over 700 volunteers turning out to take part in a 150-hour vigil at the Cenotaph in Chatham, organizers are hoping it will carry on in the years ahead.
Reverend Mark Scevior says there's no reason the project can't expand to include more communities.
"One of the things we were really touched by was that it wasn't only a Chatham event, people caught on that it was Chatham-Kent and it was actually bigger than that," says Scevior. "We had people from Windsor, Leamington, Kingsville,but definitely we were well represented. people from Wallaceburg, Ridgetown, Blenheim,  Id like to see that's where we go,that all our cenotaphs have some sort of vigil."
Scevior says the dedication of volunteers, both at the cenotaph and helping out behind the scenes, was truly inspiring.