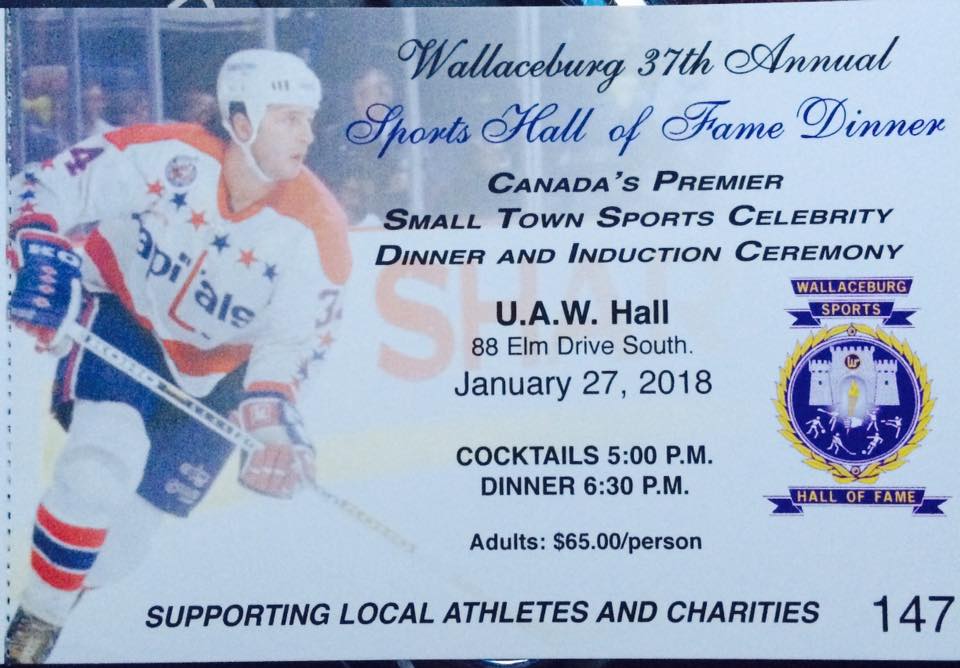 The Wallaceburg Sports Hall of Fame dinner and induction ceremony returns to the UAW Hall on Saturday, January 27th featuring special guest speaker, Al Iafrate.
Iafrate, a defenceman, was drafted by the Toronto Maple Leafs fourth overall in 1984. Remembered fondly (and with fear) for his heavy slapshot, Iafrate registered 463 points in 799 career NHL games.
Selected to four all-star-games, Iafrate's skills competition slapshot record of 105.2 miles per hour was set in 1993 and stood for 16 years until it was broken by Zdeno Chara in 2009.
Iafrate's career ended early after a series of injuries forced him to step away from the game after the 1997-98 season at the age of 32.
Tickets for the Hall Of Fame dinner and induction ceremony are available now from State Farm Insurance in Wallaceburg and from any Hall of Fame committee member.
2018 HALL OF FAME INDUCTEES
TEAM INDUCTEES – 1987 Wallaceburg Bantam Griffins Ontario "B" Lacrosse Champs
MIKE CHILDS MEMORIAL AWARD OF EXCELLENCE – BUILDER – STEVE TOOSHKENIG
RAY AARSSEN MEMORIAL AWARD OF EXCELLENCE  – COACH/OFFICIAL – JANINE DAY
MARION & BILL CHINNICK MEMORIAL AWARD OF EXCELLENCE – FEMALE ATHLETE – JOANNE JOHNSTON
DAN BERTRAND MEMORIAL AWARD OF EXCELLENCE MALE ATHLETE – EARL HAGGERTY
2017/18 ANNUAL AWARD HONOUREES
RAY AARSSEN / SPORTS HALL OF FAME SCHOLARSHIP – SHAELYN DENYS
HAROLD MARTIN MEMORIAL AWARD OUTSTANDING ACHIEVEMENT – CHLOE DUFFY
KEN MCPHAIL MEMORIAL AWARD – BUILDER OF THE YEAR – BEN HAZZARD
ALLEN SCHEPENS MEMORIAL AWARD – COACH OF THE YEAR – JEFF BYRNE
ELDIN GRIFFITH MEMORIAL AWARD ATHLETE OF THE YEAR – SHAUNEY FISCHER