Hundreds of local residents took advantage of a municipal-wide job fair in Chatham.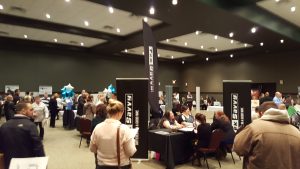 Kristy Jacobs, Project Manager with the Workforce Planning Board, says smaller business are key to lowering Chatham-Kent's jobless rate.
"Is it going to fix it to have a huge company come in and hire hundreds of people? Maybe not, because maybe hundreds of people don't want to do that job," Jacobs says. "I really do think it's focusing on those small employers feeding into our pipeline that way, and building that backbone and finding those great fits of jobs."
Jacobs says the fair is proof that there are positions available in Chatham-Kent, it's just a matter of finding one that fits each person's skills and desire.
"It's finding the internal motivation and finding what's right for each individual person to get those jobs," Jacobs says. "A lot of people when they're job searching, they get a little bit depressed when it gets hard to find jobs, and you naturally get beaten down."
Jacobs says for anyone who questions the availability of jobs in Chatham-Kent simply need look at the over 400 positions that need to be filled by companies that took part in yesterday's job fair.