Merlin's Michelle Wright returns to THE CAPITOL THEATRE to help the FRIENDS OF THE NEW ANIMAL SHELTER!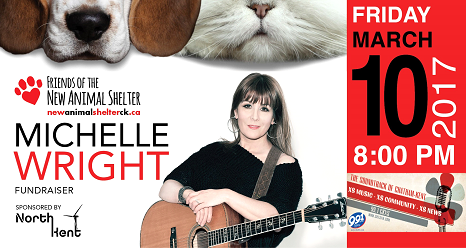 The Friends of the New Animal Shelter are thrilled to announce that Michelle Wright has been booked to perform a show on Friday, March 10, 2017 in support of their project.
"When we reached out to Michelle, a fellow animal lover to help us be part of building a new animal shelter in Chatham-Kent, she was ready to go" said Marjorie Crew, Co-chair of the Friends of the New Animal Shelter. The concert sponsored by North Kent Wind will be the first of many events planned over the next year to complete the fundraising goal. The new shelter when built, will include much needed appropriate space for animal care and safety, animal adoption, as well as other programs within the community including reading programs, social skills development and student volunteer placements. The new animal shelter will be a community resource and demonstrate for all to see how we really care for our four legged friends.
First it was Fluffy and then came her companions, Gracie, Winter, Lycos, Bella and Sophia.  A long time pet owner this seemed like a natural fit for Michelle to help us make this project a realty.
Michelle has amassed a total of twenty‐five Top Ten radio hits in her homeland of Canada and walked to podiums in music centers like Los Angeles and Toronto to accept more than forty major awards. She is the first Canadian‐born artist in the modern era of country music to have a Top Ten hit in America (Take It Like A Man, 1992) and a Number One video on CMT‐USA (Take It Like A Man, 1992), and to win a major U.S. music industry award (Academy of Country Music Top New Female Artist, 1993). In September 2011, Michelle was honored with induction into the Canadian Country Music Hall of Fame.
Michelle Wright is continuing to do what she loves to do; write songs and play them for her fans around the world.
Having a special spot in her heart for Chatham Kent, having grown up in Merlin, it only to make sense to have her join us in making many of her interests, home, animals and music converge to help raise money for this important cause.
Premium seating (first 5 rows) $65. Includes a meet & greet.
All other seats are $45.
Prices do not include $4.50 handling fee.
http://newanimalshelterck.com/
http://www.michelle-wright.com/