Legal issues continue for Kevin Jakubec.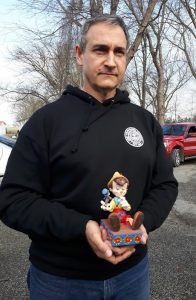 The defacto head of Water Wells First is the subject of a defamation lawsuit brought by Wallaceburg Councillor Jeff Wesley.
Lawyer Michael Learner, who represents Wesley, says serving the statement of claim has been a struggle in and of itself.
"Mr Jakubec has either refused or has ignored our requests," Learner says. "We gave him plenty of time, a deadline was imposed for him to comply with our request, he failed to do so."
Learner says once Jakubec has been served, he has a set amount of time to issue a statement of defence.
Wesley originally asked for a formal apology for comments made by Jakubec in local media and on the WWF Facebook page.
However, Learner says because the situation has dragged on for so long, an apology won't be enough.
"The conditions have somewhat changed now by the fact he has not complied with our very specific conditions," Learner says, "so we're no longer talking simply an apology and retraction, it's now beyond that."