Volunteers have been busy little elves this week, packing toys for the Goodfellows' No Child Without a Christmas campaign.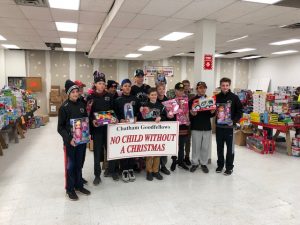 Over 100 people packed the former Fabricland store on St Clair Street, boxing up hundreds of toys to hand out to families in need over the holidays.
The organization continues to receive donations from local businesses and groups as well, including an $850 donation from the Anjema Eye Institute, more than 100 Christmas stockings full of gifts from Praise Fellowship Church, and 880 teddy bears donated by PetSmart in Chatham.
Volunteers will be accepting more donations this coming Friday and Saturday for the Street Sales portion of the campaign.
Toy packaging continues tonight with delivery slated for next Monday, and food hampers will be put together at the Spirit and Life Centre next Tuesday.