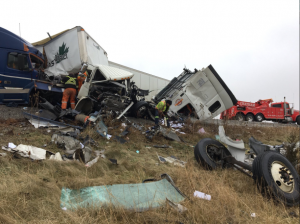 Safety advocates say yesterday's multi-vehicle crash on the 401 west of Chatham highlights the need for a permanent concrete median barrier.
Alysson Storey, who heads up the Build the Barrier movement, isn't surprised the temporary cable barrier installed along that stretch of highway wasn't enough to stop a transport from crossing the median.
"The MTO research states cables aren't safety rated for transport trucks  and anyone who drives the 401 in the area knows. Transport trucks are one of the most common and the MTO statistics show at least half of the traffic is transport trucks, usually more on weekdays," says Storey. "The cable barriers can be very effective in certain circumstances, like where there are wider medians and traffic like cars and pick ups. But when it's narrow medians and primarily transports like we have here, they aren't going to cut it."
The westbound lanes of the busy highway were closed for most of the day after a tractor trailer crossed the centre median, colliding with two other rigs.