News of a natural gas expansion project is a boon for Chatham-Kent's ag industry.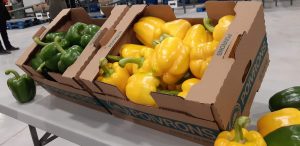 Gerry Wolting is the CFO at Cedarline Greenhouses and Truly Green Farms in Dresden, where this week's announcement was made.
He says the expansion of two new transmission lines through Chatham-Kent has actually been years in the making, and was something of a winding road to make it to this week's announcement.
Wolting says their operation isn't alone when it comes to being what he calls "infrastructurally challenged."
"The greenhouse industry in specific is very heavily reliant on infrastructure: hydro, water, wastewater, and heat," Wolting says. "In today's environment, heat by natural gas is critical to being efficient and growing crops profitably. Without a guaranteed flow of natural gas, it becomes very difficult to operate a greenhouse efficiently."
Wolting says every acre of greenhouse development will create four new jobs in the industry.
"One acre of greenhouse costs about $1-million to build, and one acre of greenhouse creates two direct jobs and two indirect jobs. In Cedarline's particular case, this will allow us to expand by 30 acres on this location and invest in a co-gen facility as well."
Wolting says investing in agriculture is a team effort from all levels of government, and he's glad to see Chatham-Kent reaping the benefits.