About 200 people showed up at the Bradley Convention Centre to hear from a total of 36 council and mayoral hopefuls in Chatham-Kent.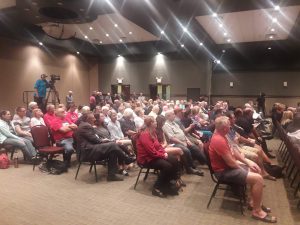 Poverty, seniors care, economic development and tourism were some of the issues covered by the candidates last night.
Allyson Storey is one of six candidates running for the mayor in Chatham-Kent, and says minimal care for seniors in municipally-run facilities doesn't go nearly far enough.
Darrin Caniff spoke of working together with non-profit groups to help solve the problem of poverty in C-K, while incumbent Randy Hope says the creation of more affordable housing is one of the key planks in his re-election platform.
Robert Powers says he would ban all ride-sharing companies from the area unless 80 per cent of their vehicles were accessible.
Harold Atkinson says he would cut taxes across the board to help attract new business to Chatham-Kent, and Allan Traylor says he would champion small private colleges for the area.
30 council hopefuls were also on hand for the forum.  They were given a shorter span of time to speak and broached topics including poverty, housing, health services and improved communications between council and its constituents.