A Chatham truck driver could hardly believe his good fortune.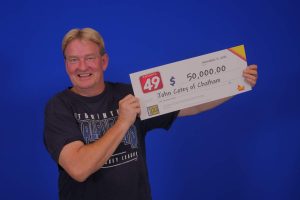 John Cotey won $50,000 in the October 20th Ontario 49 draw. The 53-year old truck driver discovered his win when he scanned his ticket on the Ticket Checker.
"Even though I knew I had won, I checked my ticket again against a copy of the winning numbers," he laughed. "But I still didn't believe it – and scanned it three more times!"
The winning ticket was purchased at the Petro Canada gas station on Grand Avenue in Chatham.
Cotey plans to use his winnings to invest in an RRSP and put a down payment on a house.
It's actually the second time the 53-year-old has struck it rich. He was part of a $2-million dollar Lotto 6/49 jackpot with a group of co-workers a few years ago.