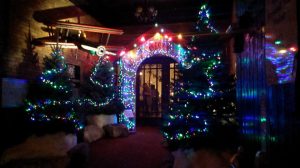 It's a holiday tradition in Chatham-Kent – Christmas in Muskoka kicks off today.
Co-chair Shawn Moynihan says the St Clair Catholic District School Board event helps to raise money for grade seven and eight students attending the Muskoka Woods Leadership Camp in the spring.
"About 8 years ago our principals got together and said 'How can we alleviate some costs for our parents?'" says Moynihan. "We rolled with Christmas in Muskoka and we take over the armories for four or five days and offer about 33-34 designer Christmas trees."
The trees get raffled off, and since its inception, the event has raised over half a million dollars.
You can find the full schedule of events here.