An interactive map of the almost 60 local trails in Chatham-Kent is expected to increase usage across the municipality.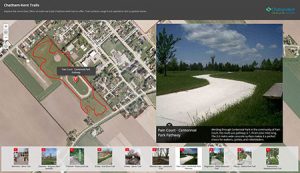 That's according to Dianne Flook, Chair of the Chatham-Kent Trails Council.
"It's an amazing achievement," says Flook "We've come a long way and this tool will take us even farther. We have printed trail maps in the past and they've been snapped up as soon as they were available. This way, people can call them up on their phones when they are out and about."
With 91 kilometers of municipal, conservation area and provincial park trails in the community, Flook said there is a wide variety of trails on offer.
You can check out the map online – click here.