Issues ranging from hydro and health care to highway safety and tax breaks were in the spotlight as candidates from the three major provincial parties faced off last night.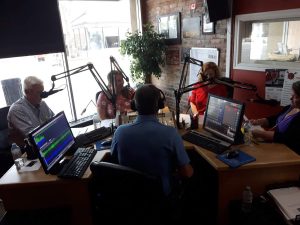 The 99.1 Chatham-Kent-Leamington candidate forum aired last night, fielding over a dozen questions on a wide range of issues, as submitted by CKXS listeners and staff.
PC candidate Rick Nicholls says he has been a staunch supporter of the 'Build the Barrier' movement to increase safety on the 401.
"That 117 km stretch from Tilbury through to Lambeth is a very dangerous stretch," Nicholls says. "My biggest concern is we need to build that concrete barrier and absolutely yes, our party has a fully-costed plan that also includes building that concrete barrier."
Jordan McGrail, who is carrying the NDP flag, believes hydro is one of, if not the most important issue for local residents.
"Through the privatization of our party, which started with the PCs, has done nothing but increase our rates by 300%," McGrail says. "We have a plan to buy back Hydro One, we have a plan to put it back in public control so we can control our rates."
Liberal candidate Margaret Schleier Stahl says getting Ontarians working is key.
"As an employment councillor with the municipality of Chatham-Kent, I often see individuals who are seeking employment," Schleier Stahl says. "I think it's important to remember that since the Liberals have been in power there have been 820,000 new jobs since the recession, and nearly 400,000 new jobs under this Premier alone."
Local issues will be in the spotlight once again next week as CKXS hosts a candidate forum focusing on the riding of Lambton-Kent-Middlesex.
If you would like to submit a question or issue for next week's debate, email rbrady@ckxsfm.com.