Today's your chance to learn more about fire safety and how to become a firefighter.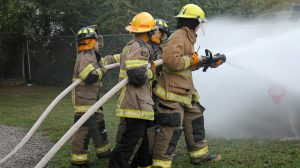 As part of Fire Prevention Week, fire departments and McDonald's restaurants across the province are teaming up for the Coffee with a Firefighter event.
Locally, it's taking place from 10am-noon today at McDonald's in Wallaceburg.
Everyone is invited for free coffee, fire truck tours, and to learn more from local fire fighters.
There will also be an opportunity to sign up for free CHiRP home alarm checks.