A pilot project to live stream council meetings may become permanent.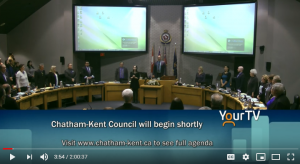 Councillor Carmen McGregor says the $25,000 annual price tag of live streaming meetings on YouTube will be going to the budget process in the New Year.
"It's more of a matter of whether or not we want to make changes to it, for example Facebook streaming and such, and it sounds like YourTV is going to try a pilot on that," McGregor explains.
Should municipal officials decide to start holding council meetings in communities around Chatham-Kent, they'd have to look into live streaming logistics for those meetings as well.
"I think it's a major part of communicating out in our communities," McGregor says. "I think we could do better at getting the information out, how to communicate that those meetings are available and out there."
While many councillors agreed that broadcasting the meetings online helps with accessibility, some had concerns about YourTV's pricing.