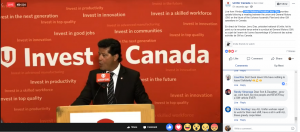 GM is continuing to hold firm on the decision to abandon Oshawa in favor of Mexico.
Fresh off a meeting with company execs, Unifor National President Jerry Dias addressed union members and the media late Tuesday afternoon.
He says GM's decision is about simple greed.
"Marry Barra's salary of $22-million a year is more compensation than the entire (Mexico ) plant. It's about greed, corporate greed and a lack of acknowledgement for the role of not only Canadian workers, but our american counterparts," says Dias. "It's about us as a nation. You can't take that money out of Canada without it negatively impacting everybody. the citizens of Ontario have to understand. When you take that taxpayer money out of the economy, it affects our kids' education, long term care, infrastructure spending. You can't take that type of money."
Dias says the union plans a major demonstration for Friday in Oshawa.