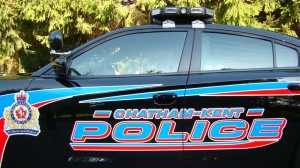 Drunk driving charges have been laid in Ridgetown.
Chatham-Kent Police say Thursday around 11 o clock in the morning, officers were called to a single vehicle collision on Cathcart Street near Harold Street in Ridgetown.
Police believed the driver had been drinking, and took him to police headquarters for breath tests.
The 21-year-old Ridgetown man is being charged with having a blood alcohol concentration exceeding the legal limit.