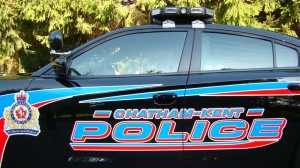 An alert officer on patrol spotted a stolen van early this morning in Chatham.
The Chatham-Kent police officer noticed the plates were not authorized for the vehicle and pulled them over shortly after 4 a.m.
Inside the stolen van were a man and a woman, some meth, a digital scale and a can of bear spray.
The pair were taken into custody ad charged with a laundry list of offences.
The 33 year old Chatham man is facing, among other things, driving while disqualified, possession of property obtained by crime under $5000.00 dollars, unauthorized possession of a prohibited weapon, and possession for the purpose of trafficking
The 24 year old Chatham woman is facing similar charges.
They were both held in custody pending a bail hearing.