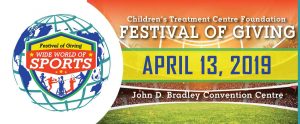 It's touted as one of the premier fundraising events of the year in Chatham-Kent.
The Festival of Giving is taking place at the Bradley Centre on April 13th, and tickets are set to go on sale one week from today.
Children's Treatment Centre Foundation Executive Director Mike Genge says the price for this year's event has been raised to $175, but it's worth it.
"We've increased the price by $25. I think when you look at us compared to other fundraisers and events that are out there, for what you get – and for the fact that not only do you get a meal, you get three bands, lots of entertainment, and we actually give you a ride home," explains Genge.
Another change this year is how to buy tickets – all sales will be handled through cktickets.com or at the Capitol Theatre box office.