Charges are pending after an explosive crash that shut down the 401 near Ridgetown yesterday afternoon.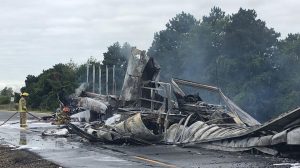 Shortly after 3 o'clock, a westbound transport rear-ended another truck that was stopped heading into the construction zone near Kenesserie Road.
The two trucks caught fire, suffering extensive damage.
The force of the collision sent the second truck into the back of a third transport, which then rear ended another vehicle.
Luckily, only one of the drivers suffered minor injuries, and was taken to hospital.
The 401 was closed for several hours as crews cleaned up the wreckage.