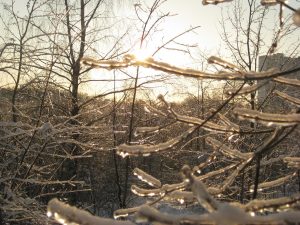 Environment Canada has a freezing rain warning in effect for: Chatham-Kent – Rondeau Park – Windsor – Leamington – Essex County. Freezing rain expected beginning Sunday morning and ending Sunday afternoon.
Another round of snow will develop overnight. Snow will mix with ice pellets and accumulate 2 to 5 cm Sunday morning before changing to freezing rain. Freezing rain will persist for several hours before changing back to light snow Sunday afternoon. Snow will end Sunday evening.
Surfaces such as highways, roads, walkways and parking lots may become icy and slippery. Slow down driving in slippery conditions. Watch for taillights ahead and maintain a safe following distance. Poor weather conditions may contribute to transportation delays.
Freezing rain warnings are issued when rain falling in sub-zero temperatures creates ice build-up and icy surfaces.