The closure of Rose Beach line between Rondeau and Morpeth on Lake Erie is becoming more permanent.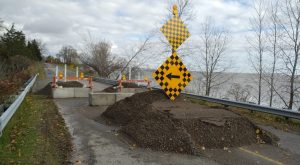 The road has been closed at Antrim Rd due to slope erosion threatening public safety in that section.
The plan at this point is to look at the possible options and solutions, conduct an environmental assessment, open up a 30 day period for public comment, and return to council with a plan in the new year.
Until then, the road is closed.