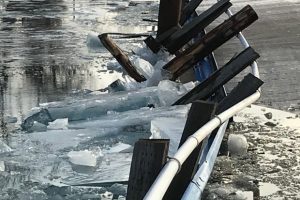 A local MP is taking to social media to call out the federal government over its handling – or lack thereof – of the Sombra Ferry closure.
The Bluewater Ferry was forced to stop running over a year ago after an ice floe damaged the causeway connecting the ferry dock to the Canadian side of the St Clair River.
Sarnia-Lambton MP Marilyn Gladu posted a video on her Facebook page this week, and says it's shocking that nothing has been done.
"It's been one year and two months that this Liberal government has done nothing to address this situation. They've done nothing to open the border, they've done nothing to save the jobs of businesses on both sides, they've done nothing as far as contingency for Bluewater Bridge goes, and they've done nothing to regain the $4-million dollars of custom duties that they've got at this crossing," says Gladu.
She says there's lot of blame to go around.
"This is a failure of the Liberal Government at all levels right from the Minister of Infrastructure, the Minister of Safety, the Minister of Transportation, to the Minister of Defense, and the Prime Minister's Office. They all had opportunity to fix this, to restore a border crossing which is really important for trade between the US and Canada, and to help the citizens of Sarnia-Lambton," Gladu says.
The owners of the ferry blame the damage on a Canadian Coast Guard ice breaker that pushed the ice floe toward shore.