Habitat for Humanity Chatham-Kent is celebrating fall with a special event this weekend.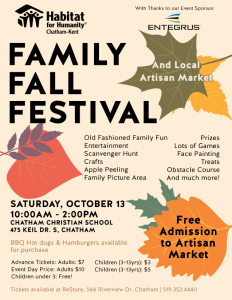 It's the 2nd annual Family Fall Festival for Habitat for Humanity.
Taking place on Saturday at Chatham Christian School on Keil Drive South, the event features games, an obstacle course, prizes, and more.
There will also be vendors and a barbecue.
Tickets can be purchased at the event for $10 for adults and $5 for children.
The fair runs from 10-2 on Saturday.