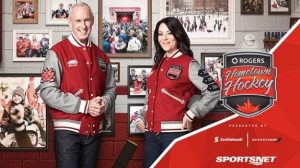 Plans have been announced for this month's Rogers Hometown Hockey.
A number of celebrations will be held around the municipality as part of the Hometown Hockey festivities, including the renaming of the arena in Dresden in honour of Ken Houston.
But now, Rogers has officially released its own plans for the weekend of December 15th and 16th.
The two-day hockey festival begins on Saturday, Dec. 15 at Noon in downtown Chatham on Wellington Street between 3rd and 4th Streets.
A slew of activities are planned, including a virtual photo booth, live entertainment, a hockey circus show, an outdoor rink, and the Playmobil kids' zone.
Everything wraps up with an outdoor viewing party of the Hometown Hockey broadcast on Sunday evening.