The six mayoral candidates faced off on a number of issues once again last night with the Behind the Ballot forum broadcast live on 99.1 CKXS and YourTV.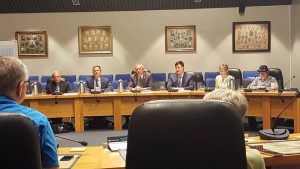 The candidates touched on a number of issues, including the relevance of foreign economic development trips.
Darrin Canniff says that while roughly 80% of jobs in Chatham-Kent are locally-owned, there is still a need for foreign investment.
"Between the province and the feds, they have 200+ people that that's their job, going across the world looking for economic opportunity, we need to be linked with them," Canniff says. "We need to be the top on the list when they have an opportunity, we need to work with them so when they see this, they think Chatham-Kent is the place, let's talk to them about it."
Randy Hope believes showcasing Chatham-Kent on the national stage is key to new investment and existing businesses.
"You look at a number of companies that are talking about global economies and it's important that we're out front, making sure that we're supporting and retention of local businesses, but also making sure we're attracting new businesses," Hope says. "The new NAFTA agreement is a huge opportunity for us, especially with the new bridge, so I believe there's opportunity for expansion and investment to occur in our communities."
When it comes to attracting new residents to the municipality, Alysson Storey says there are a number of factors to consider.
"And that includes supporting and promoting the new CK-Y committee to encourage attraction and retention of the 20-39 year old age group, it also re-establishes a positive working relationship with our two post-secondary institutions here in Chatham-Kent, and quality of life is a big one for that age group, that means reviewing our arts, culture, and tourism master plans to make sure we're revitalizing our arts and cultural relating to these crucial economic development drivers."
Robert Powers believes a housing shortage is one of the main challenges.
"By my calculation, we need at least 700 new units of housing to meet yesterday's demand," Powers explains. "We can talk about recreational amenities and all that, but at the end of the day if we don't have housing in our community available, no one's going to come even if they wanted to."
Harold Atkinson stressed the importance of maintaining our infrastructure.
"When you drive around in Chatham-Kent, we have 3588 km of paved roads, 3264 km of unpaved roads," Atkinson says. "Generally the unpaved roads are actually smoother, which is pretty sad. When people come from outside our community, they come here and our roads are bouncing along."
For his part, Allan Traylor has big plans for the first four months in office, should he win the October 22nd election.
"I'm going to alleviate poverty, lessen greenhouse gas emissions, create jobs, and it's all ROI (return on investment)" Traylor explains. There will be no litter, no poverty, less crime in our city and towns of Kent, no homeless in the near future."
The mayoral forum will be rebroadcast on YourTV leading up to the municipal election. Check your local listings online for dates and times.