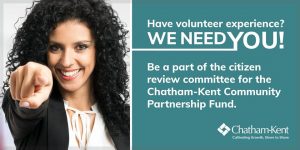 A new committee has been formed to help municipal staff determine how to distribute Community Partnership Fund grants.
Manager of Corporate Initiatives Amy Wilcox explains.
"During this winter, the Mayor and myself met with over 170 community groups, and during that time we saw a huge hire of community-minded people who wanted to get out and get involved. And since the Community Partnership Fund is a grant for community events and community projects,  we thought it was time to have citizens assist us in reviewing these applications. So we're asking people that have some experience with non-profits and volunteering to complete an application. We're looking for 8 citizens to join 5 municipal staff," says Wilcox.
Wilcox says successful applicants will be required to attend several meeting in April each year to help review applications.
"We're looking for people that live in this community, as the Community Partnership Fund is a municipal community grant, and we're looking for people who have experience working with the community," says Wilcox.
If you're interested in applying to be on this committee, you can find the application form here.
If you have any questions about the committee or the application process, you can contact the municipality at ckpartnership@chaham-kent.ca.