Work on the long closed New Scotland Line is set to wrap up next week, but it won't be fully finished until the spring.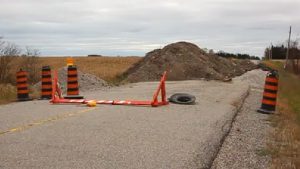 The road has been closed since May 5th when the culvert and road failed, requiring an extensive repairs.
It's an important link in the Rondeau Bay area, with an average of 900 vehicles using it every day.
The total cost is $422,000 and was 16% cent below the engineer's estimate.
The work involved removing the failed culvert and installing a precast replacement.
The road will have a temporary gravel surface until next spring.