Katie Omstead will carry the Liberal flag into the 2019 Canada Federal Election.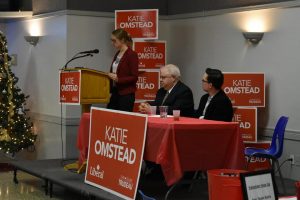 She was acclaimed to the position for the riding of Chatham-Kent-Leamington in Tilbury last night.
Omstead was born and raised in Chatham-Kent and now lives in Leamington, working as an elementary teacher.
She believes politics has gotten a lot darker since the last election in 2015, but she's not going to let that change her strategy.
DEC 7 OMSTEAD-2
Omstead came within 2,300 votes of defeating Dave Van Kesteren in 2015. The Conservatives have chosen Leamington-area farmer Dave Epp as their nominee.