It is an all too familiar story these days: a multi-vehicle crash on the 401 leads to injuries and road closures.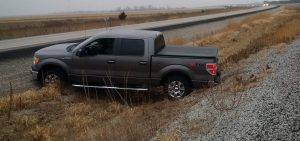 It happened again Tuesday morning when three transports collided, closing the 401 west of Bloomfield for most of the day.
OPP Constable Jay Denorer says if you are stuck in traffic, please be patient, and wait for police to help you move.
"They want to get out so they either turn around and go the wrong way on the 401, they'll go through the centre median, or they'll use one of the emergency turnarounds," Denorer says. "A pickup truck decided to go through the centre median (on Tuesday) and actually ended up getting stuck. Now we have to take people that were responding to the initial call, take them away from the scene, have a tow truck come out, and have a (police) member on standby at that scene until it gets cleaned up."
The motorist in the case has since been charged with careless driving.
Denorer says there are also heavy fines for people who decide to use the authorized turnaround areas for their own convenience.