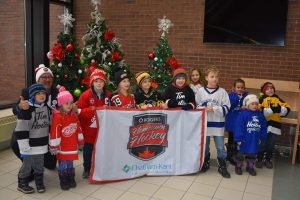 Rogers Hometown Hockey week in Chatham-Kent officially kicked off Tuesday with a flag raising in downtown Chatham.
New Mayor Darrin Canniff was on hand along with several youngsters from local minor hockey groups. 
The Mayor thinks it's great. " How can you not be excited about an event like this in Chatham-Kent. We are going to have national coverage, over a million Canadians are going to be watching us here. Watching all of the spirit we have in Chatham-Kent."
He added he hopes it's a warm day so we can show off the banana belt to the rest of the country.
Ron MacLean and Tara Sloan will be hosting the game between Tampa Bay and Winnipeg from the location on Wellington St. between 3rd and 4th beginning Sunday at 6 pm.
There will be hockey activities around the municipality all weekend long.